*** Upcoming Events ***
We will follow the government's advice regarding public events during the Covid-19  pandemic.
*** Past Events ***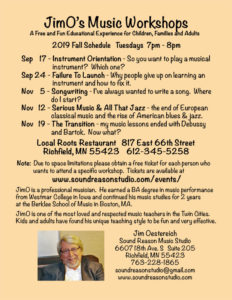 JimO's Songwriting For Kids
Mondays July 1, 8, 22 & 29

Richfield Family Night - Tuesday July 2, 2019

My good friend Michael Kovacs will be joining me at our table during the Richfield Family Night event at Veteran's Park in Richfield on Tuesday, July 2. We plan to do a little jamming. Stop by and enjoy the show.